17 October 2022
Upcoming events: Chocolat Festival Portugal, PackExpo and Salon du Chocolat
Updated: 17 October 2022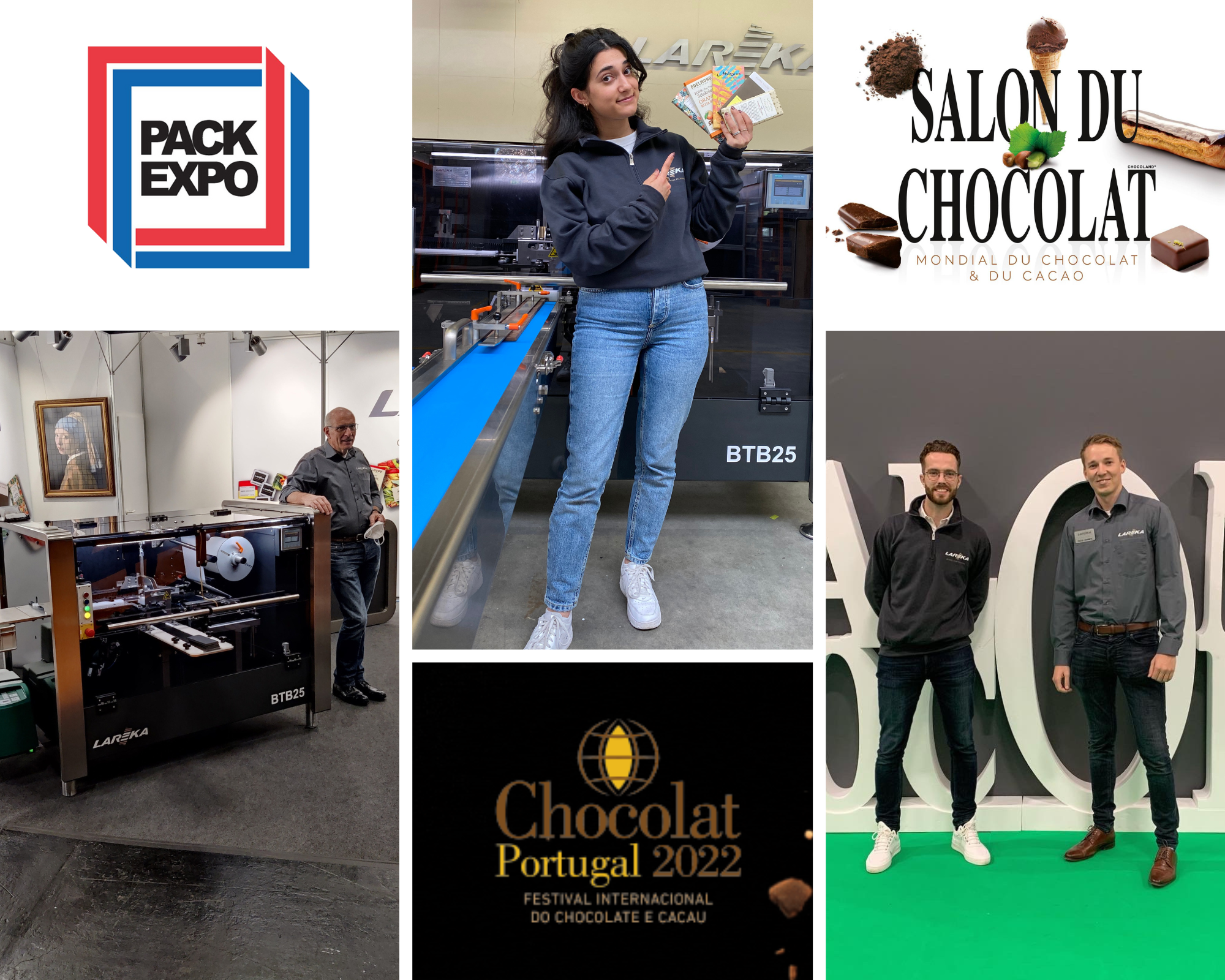 October is all about packaging and chocolate trade fairs for Lareka. We cordially invite you to visit one of the upcoming events in Portugal, the United States and France.
Three international events in a fortnight!
Are you interested in the latest developments in chocolate packaging machines, chocolate packaging and sustainable materials and trends? Or do you have questions on the possibilities and limitations of automatic packaging? We will be only too happy to welcome you to our stands at the Chocolat Festival in Porto (Portugal), the PackExpo International in Chicago (USA) and Salon du Chocolat in Paris (France). At these events we will present a variety of samples and materials and we can tell you all about our machines and answer all your questions over a good cup of coffee and an artisanal piece of chocolate. The BTB25 can be seen in action at both PackExpo and Salon du Chocolat!
Practical information and dates
Chocolat Festival Portugal (International Festival of Chocolate and Cocoa)
20 - 23 October | Porto, Portugal
The first edition of the Latin American 'International Festival of Chocolate and Cocoa in Europe' is being organized by our friends from WOW/Vinte Vinte at their location in the cultural district in Vila Nova de Gaia. The event is intended for chocolate professionals, consumers and enthusiasts.
PackExpo International | Stand S2592
23 - 26 October | Chicago, USA
America's largest international processing and packaging fair is the best place to learn the latest about ground-breaking technical developments and find the right technological solution for your next chocolate project. At this fair, Lareka will be assisting the Tomric sales team (our distributor for North America).
Salon du Chocolat | V20
28 October - 1 November | Paris, France
The world's largest event dedicated to exclusive chocolate and cocoa celebrates its 27th edition with a spectacular fashion show, live demonstrations, fun animations and prestigious competitions – all dedicated to chocolate and cocoa. At this chocolate consumer fair our French agents from PBF Solutions will support us throughout the event.
A click on the event name will take you to the relevant website for more information and tickets. If you are interested in attending any of these events, please let us know as soon as possible, as we still have some complimentary tickets available!