21 July 2021
Sustainable solutions for packaging materials
Updated: 21 July 2021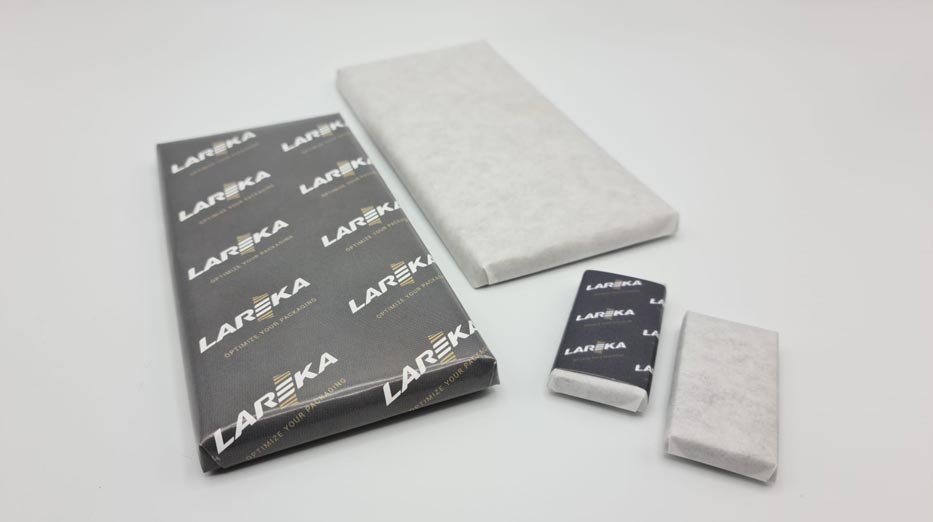 Less is more when it comes to packaging. That's why, as packaging specialists, we are always on the lookout for innovative, sustainable materials for automated chocolate-wrapping.
The best packaging is no packaging
During a visit to Biofach in Germany a few years ago, I heard the phrase 'the best packaging is no packaging'. Whilst this is technically true, a world without packaging is a utopia. Especially the world of food and confectionery. In acknowledgement of the need for packaging, but equally of the adverse impact of non-sustainable materials on the environment, there are many initiatives under way to come up with better, more environmentally friendly and sustainable packaging and packaging materials.
Sustainability, barrier properties & brand identity
As packaging expert, we are playing our part in this endeavour. We are constantly monitoring the market for new sustainable materials for the automated wrapping of artisan chocolate. We are in direct contact with packaging material suppliers the world over and test any material with potential for automated wrapping on our machines. There are three things we look out for in our hunt for the optimal packaging material: sustainability, barrier properties and a match with the client's brand identity. There is no guaranteed formula for success: the ideal balance between these three factors varies for each individual client. We will continue to proactively test sustainable materials on our machines.
Sustainable alternatives
Alternatives to the traditional aluminium and aluminium paper laminate that we have tested on our machines include: cellophane, glassine paper, cellophane paper laminate, PE-coated paper, water-soluble film made from starch, water-soluble film made from milk proteins, and most recently, paper coated with a water-soluble milk-protein film. We are particularly optimistic about the latter sustainable alternative. It is a material that boasts good fat and gas barrier properties and highly compatible with our machines. This sustainable alternative can also be composted at home and is 100% recyclable. We recorded the successful testing of this material in the video above.
Consumer perspective
Another important angle on this issue that is less discussed, is the perception of the consumer. We advise our clients to approach packaging from a consumer perspective, assuming that consumers do not have the same level of understanding of materials that they do. Take cellophane packaging, for instance. It is compostable and therefore, sustainable. But if the consumer is not aware of this and thinks it is a kind of plastic, it can be negatively perceived and end up in the wrong recycling stream. The solution is simple: communicate with the consumer!