27 January 2022
Success Stories: Jhonata Carvalho (Dengo)
Updated: 13 April 2022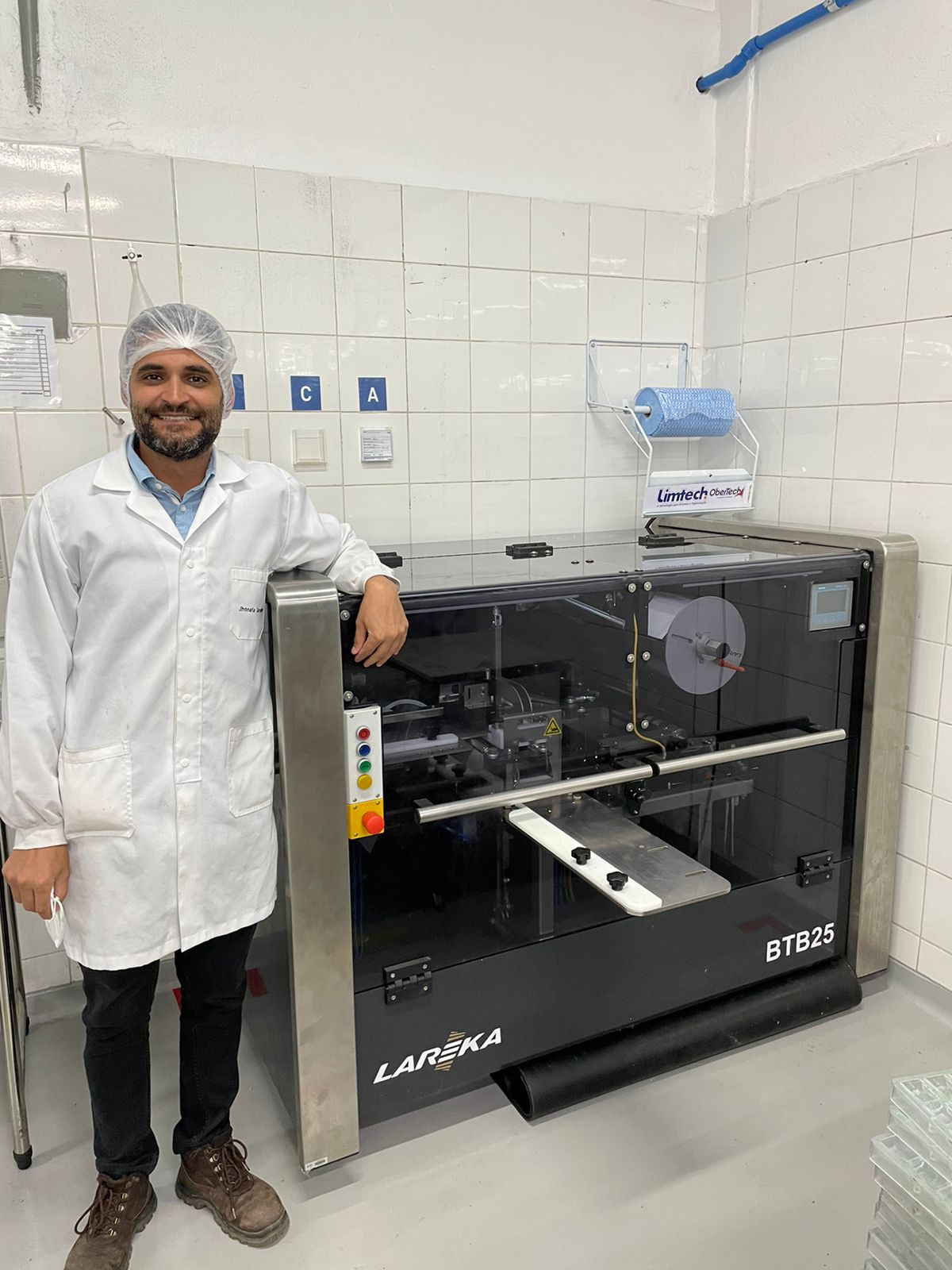 Established with the aim of improving the Brazilian cocoa chain and most importantly of producing delicious, healthy and sustainable chocolate. Dengo is deeply committed to helping create a fair supply chain when it comes to cocoa. At Dengo, there is a strong belief that no goal can be achieved as long as the main players in the story are ignored: the cocoa farmers.
About two years ago, the first Dengo bar was packed on a BTB25, and a lot has changed since then. In this edition of Success Stories, we speak with Jhonata Carvalho, Maintenance and Project Manager at Dengo. With only two days of training, Jhonata surprised everyone when he managed to install the BTB25 almost entirely on his own, an unprecedented feat. Although this underscored the machine's ease of use, more importantly it was the brilliant achievement of the person who will be answering 4 packaging related questions today!
What is Dengo's signature chocolate bar? And how is it wrapped?
A signature chocolate bar of ours received the 'Golden Design Award' in 2020. The award was thanks to the way the bar is designed. The design for the bar is unique and recognisable. The playful design seeks to convey 'colour' and 'life' to the consumer, and tells the story of the cocoa farmers in Brazil. When we transitioned to automatic packaging, the design had to be adapted somewhat. Given the recognisability and prominence of this design, we wanted to limit any adjustments as much as possible. This worked out extremely well in collaboration with the Lareka team and we only needed minimal adjustments to ensure sleek packaging. In addition to the design of the bar, one of our hallmarks is our premium packaging. Our bars are wrapped in aluminium and a crafted artisan paper label folded in the envelope style.
What bar has the most beautiful packaging?
I'm a fan of Dengo packaging, we have the most beautiful packaging in all of Brazil. Personally, I like classic envelope packaging better than flowpacked products. As far as the design, our colourful and abstract packaging conveys energy and tells a story. The paper label is high quality, incorporates embossing and is rather sturdy. The packaging proves that sustainability, minimalism and rich use of colour go hand in hand.
How does Dengo concern itself with sustainability/sustainable production?
We certainly have a distinct way of looking at sustainability and have implemented this approach both in our packaging as well as in our manner of production. We are currently working towards achieving a 100% plastic free shop. Currently, 98% of all our packaging, bags and other commercial materials are plastic free. The goal is to reach 100% by the end of this year.
Dengo arose out of issues found in the cocoa chain: cocoa farmers are exploited and large companies profit from the low prices paid. Dengo's aim is to increase the average income of small cocoa farmers in Brazil, thereby contributing to an improved and fair cocoa chain. We pay our cocoa farmers 80%-120% more, giving these farmers the means to supply a better quality product. In other words, a win-win situation.

What changes has the BTB25 brought about within Dengo?
Dengo was founded in 2017 with just one shop, and everything was done by hand. In just two years, we grew to 18 shops. Problems emerged in production, as we did not have sufficient capacity to supply all these shops with enough products. We soon realised that we needed to automate some of our processes, but we were careful not to allow this transition to compromise the artisanal aspect of our products. For example, our packaging capacity was 800 bars per day, which was done by a team of 8 employees. We wanted to reduce the number of packaging employees and increase capacity while maintaining the exclusivity of the bar and its packaging. This proved to be quite a challenge, as virtually all of the machines are focused on large production volumes and were very high in price. Until we discovered you (Lareka), and learned that the BTB25 was the right machine for artisan chocolatiers like Dengo. Our capacity has increased 15x thanks to the BTB25, and only two employees are needed to operate the packaging machine at full capacity. In addition, the machine takes up very little space, which is ideal for our small production area. We were positively surprised by the user-friendliness of the machine and how easily and quickly format changes can be made.
Although Lareka normally installs the machine at the customer site, this was hindered due to the COVID-19 restrictions placed on international travel. Fortunately, during my visit to Lareka, I had gotten the opportunity to watch a machine being installed and learned about the process. Armed with this knowledge and some online support from Lareka, we managed to install the machine on our own. We have been using the BTB25 for about two years now and are very satisfied with Lareka and the quality and capacity of the packaging machine.
Feel inspired by Jhonata's story and want to find out more about Dengo? Click here for more information about Dengo's background, aims or to have a look at the wide range of products offered by this unique Brazilian chocolate company.