12 November 2020
Success stories: Hans Mekking (Urban Cacao)
Updated: 15 November 2021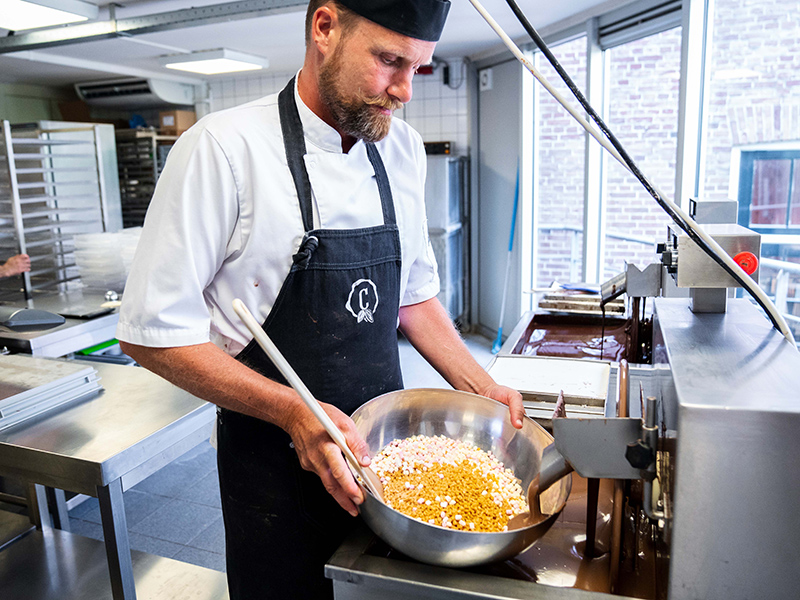 Hans Mekking, owner of Urban Cacao, has been making "the city's tastiest chocolate" in the heart of Amsterdam since 2014. The artisanal chocolate maker is renowned for his rich assortment of bars using different ingredients. Every unique taste, says Hans, deserves a unique packaging with a completely unique design.

We (at Lareka) have been proud partner of Urban Cacao since 2018. You can arrange a visit to this beautifully designed open-plan workshop (400m2) for a demonstration of the Lareka BTB25 packaging machine. All chocolatiers whom Lareka has sent through to Urban Cacao are full of praise about Hans, his chocolate and Urban Cacao. In the first edition of 'success stories', Hans answers four questions related to chocolate and packaging.
1) What is your signature chocolate bar? And how is it packaged?
Our best-selling bar is the 'Milk Chocolate - Caramel, Syrup Waffle'. We wrap it in smooth glassine paper first, and then in a Delft Blue paper wrapper featuring the characteristic Urban Cocoa sticker on the front. Our packaging stands out thanks to the striking colour combinations and typically Dutch images that playfully adorn the outside wrapping.

Between 70% and 80% of our products are private label: Schiphol Airport, hotels, restaurants and museums. Every one of these customers want an exclusive design that matches their brand. This means that every customer - and every taste - gets its own unique packaging. All designs are conceived in collaboration with our creative partner, such as the design of the Van Gogh collection. In collaboration with the Van Gogh Museum, we developed a special range of three bars, each with a unique wrapping inspired by the work of this world-famous artist.

2) Which bar has the most beautiful wrapping?
We recently launched a new brand, WOW Cacao (private label). The bars are designed by 'our' designer in cooperation with the client, with a packaging that is rich in colour, yet abstract and sleek. Simply beautiful! This newcomer on the chocolate market is sold mainly in local convenience shops.

For home décor shop Dille & Kamille, we came up with a totally different design that is more serene in style and with a characteristic sticker. They have their own wrappers with simple and soft colours. A design that complements the look of a brand or shop. This, too, has its charm.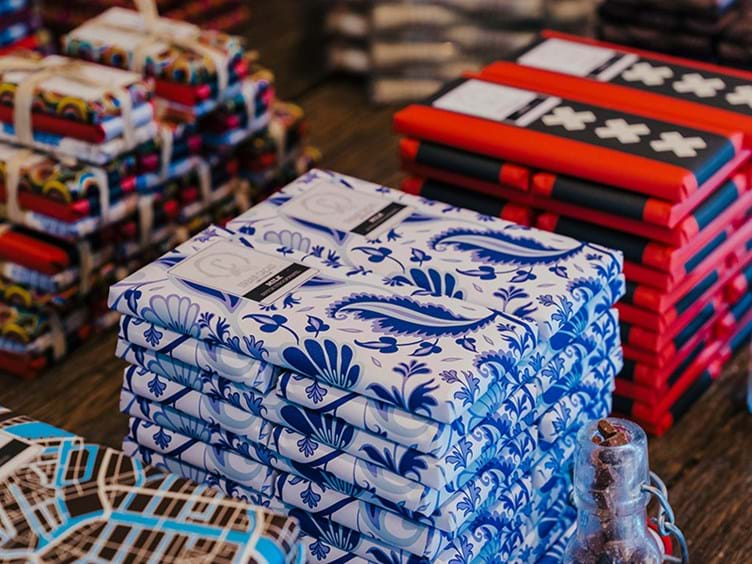 3) How does Urban Cacao concern itself with sustainability and sustainable production?
Besides the fact that our packaging materials are sustainable (glassine and paper), we transport all our products sustainably. In fact, almost all transport inside the Amsterdam city area is done by bicycle! But outside Amsterdam, too, we use electrified mobility to transport our goods.

And we certainly also produce sustainably. We only work with natural ingredients that are produced and traded fairly. The selection of our ingredients is very strict, the determining factors being quality, origin and sustainability. So, you can fairly say that the company is greatly committed to sustainability.

4) What changes has the BTB25 brought about within Urban Cacao?
First and foremost, it has allowed us to increase the volume enormously. Everything used to be packed by hand. Five ladies would work day in, day out wrapping the bars until their hands hurt. One person could pack around 60 bars an hour. Packing by hand is a labour-intensive job with a low output. We've boosted that output incredibly with the purchase of your packaging machine and can now wrap more than 1000 bars an hour. It's faster and more accurate. Two staff operate the machine; one for feeding the bars in and one at the other end. By automating the packaging process, we have been able to drop the cost price of our products dramatically. This enables us to offer our products at a more appealing price. There is no denying that the packaging machine has played a huge role in our company's success!

Inspired by the success story of Hans?
Discover more about Hans and Urban Cacao on their website