17 July 2022
Success Stories: Greg D'Alesandre (Dandelion Chocolate)
Updated: 18 July 2022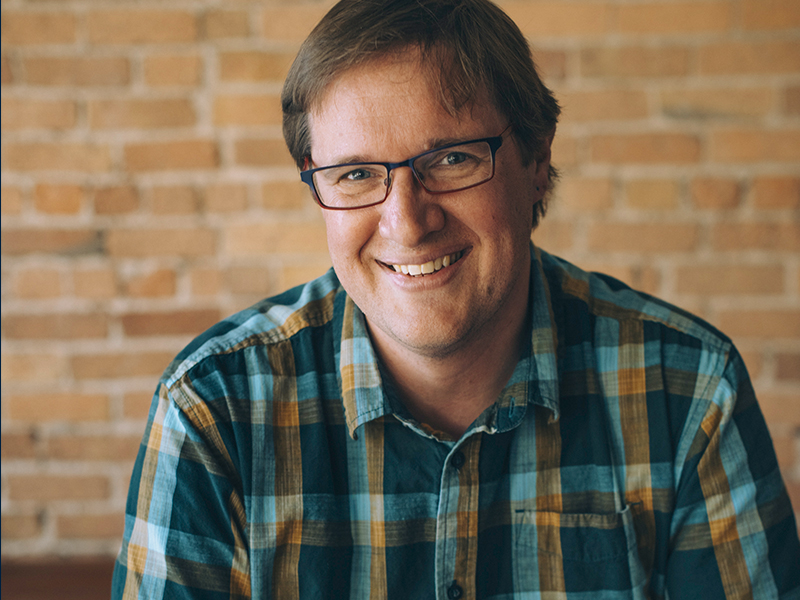 For more than 10 years, Dandelion Chocolate has been producing small-batch, bean-to-bar chocolate in San Francisco's Mission District. The focus of the Dandelion team since the very beginning has been on 'reinventing' chocolate; on bringing out the nuances of truly good, distinctive cocoa. That's why Dandelion chocolate is made using only two ingredients: ethically produced, well-fermented, carefully roasted beans and organic cane sugar.
To ensure consistency in the quality, it is essential to build solid and lasting relationships with cocoa farmers around the globe. The company only works with farmers who harvest, ferment and dry their own beans. Selecting the right cocoa farmers and managing a good relationship with them is the job of Greg D'Alesandre, who has been part of the Dandelion team since 2012. As Dandelion's Chocolate Sorcerer, he travels the world in search of the world's finest cocoa - a job that is the envy of many chocolate lovers!
What is your signature chocolate bar? And how is it packaged?
That has to be our 70% single-origin bar, which we've already been producing for around 10 years. Of course, we now make many different products, but our signature bar is still our best-selling product. This bar has always had the same packaging: a nice thick golden foil, wrapped in paper made from recycled Indian cotton. Just like the careful selection of our ingredients, we've paid great deal of attention to the choice of our packaging and packaging materials. The look, feel and experience of unwrapping are important to us (Dandelion) and to our image.
Some chocolate makers seem to focus almost entirely on their chocolate, which of course I understand, but the packaging is also very much part of the customer experience. The packaging has the power of attraction, and this is what I always try telling all chocolate makers: you can make the best chocolate in the world but if you don't pay enough attention to your packaging, nobody will buy it.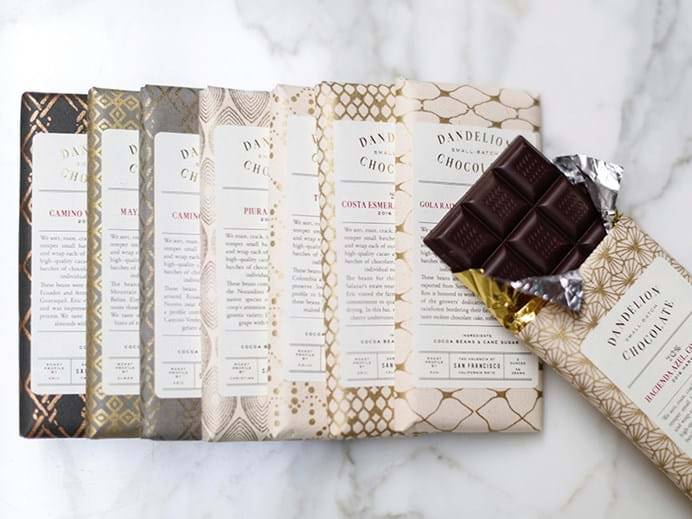 Which bar has the most beautiful wrapping?
I have to admit, I'm a fan of our own packaging. But if I think of really attractive, unique packaging, it's the wrapping of Kad Kokoa, a premium chocolate company located in Bangkok, Thailand. They have updated their packaging since then, but I fell over backwards when I held their bar in my hands for the first time; an artisan bar wrapped in several layers of paper and then packed inside an exclusive cardboard box. Yes, I can say with certainty that I bought a few bars because of their presentation.
How does Dandelion concern itself with sustainability and sustainable production?
We focus on sustainability in various ways. Ecologically, but also economically. For example, we want to make sure that all the cocoa farmers we work with are paid more than fairly, so they can maintain their livelihood. In an ideal world, the production of cocoa would lift them out of poverty. And sure, maybe I'm being an idealist here, but I am not naive. And the current price that cocoa farmers are being paid is a far cry from the amount needed to give them a life without poverty.
Another factor, as we said before, is that our products are packaged in sustainable foil and cotton. The fact that the material itself (cotton) is recycled appealed to us enormously and made us decide to work with that particular supplier in India. Years have gone by in the meantime and we still enjoy working with them.
What changes has the BTB25 brought about within Dandelion?
When we first started making bars, we knew nothing about packaging, and certainly nothing about packaging solutions for bean-to-bar chocolate. How to scale up properly was also completely new territory. As we (Dandelion) continued to grow, we all agreed that our packaging process needed to be automated. It was then that we realised that our packaging wasn't suitable for an automated packing process: the aluminium foil was too thick and there was no structure or paper layer behind it. Moreover, there was too much variation in the recycled cotton because it was hand-made material. At the same time, it is the 'artisanal' aspect that consumers love about our packaging, but this made it very difficult to automate the process.
That was until, after a six year search, I met you (Lareka). Literally six years! Lareka was the first who didn't see the job as 'too challenging'. Plus, you're only satisfied once the quality of the packaging meets your standards. After trial and error, you succeeded. You never gave up. And we now use the machine every day! Without the packaging machine, I'd have to worry about finding 20 or so full-time packaging employees. You have really made a difference and have made it possible for us to grow. You've shown that we can scale up without sacrificing quality. The packaging today is even better than before. And I'm not just saying this for the sake of the interview, ha ha! Thanks so much!
Inspired by Greg's Success Story?
You can find more information about Greg and Dandelion here