25 April 2023
Profit from personalisation with Lareka's chocolate wrapping machines!
Updated: 25 April 2023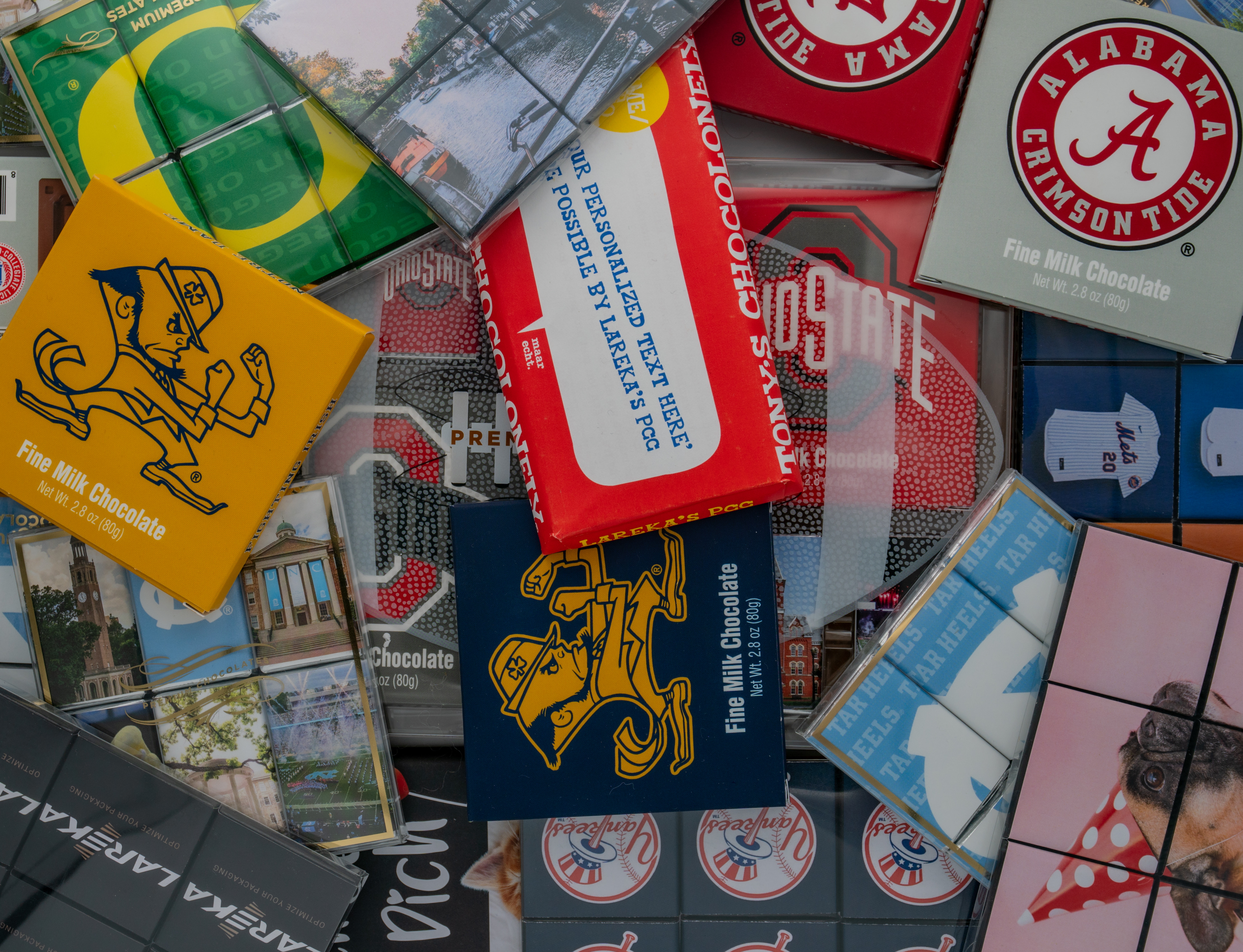 Personalisation is the future of sales and marketing, also in the world of chocolate. Our packaging machines make it possible to take full advantage of the increased demand for personalised chocolate.
Chocolate and personalisation go hand in hand
You only have to Google the trend 'personalised chocolate' to be presented with various market surveys all pointing in the same direction: the demand and supply of personalised chocolate has grown considerably in recent years, and it is set to continue in the coming years. Personalisation and chocolate go hand in hand. Why is that? Personalised packaging changes a bar of chocolate into an exclusive treat, personal surprise or memorable souvenir – a creative gift for any occasion. Furthermore, it is more practical and profitable to personalise the packaging than the chocolate bar itself.
Increase your margins!
Chocolate makers but also commercial and (digital) printing companies can profit from this trend to the full extent. Indeed, consumers are prepared to pay significantly higher prices for a product wrapped in personalised packaging. As an example, the characteristic personalised chocolate bar you see in the image above is sold for six times (!) the price of the product when in standard wrapping. Despite the higher price, customer reviews are very positive, which demonstrates the added value of personalised packaging even more. Consumers become co-designers of the packaging, which boosts the buyer experience.
Anticipate and benefit
Various BTB25 customers offer personalised packaging and state that the numbers are increasing each year. One particular customer achieved a growth of over 200% in the first five years after launching a product with personalised chocolate! The customer has since ordered their third BTB25 packaging machine. Running with pre-cut labels, the BTB25 is perfectly suited for wrapping personalised packages in small and medium-sized series. We have even made it possible to manage the entire 'personalisation process' - from design to packaged tablet - with Lareka's Personalised Chocolate Concept (PCC).
If you are interested in finding out what personalised packaging can add to your business, or would like more information about the BTB25 or PCC, please don't hesitate to contact us.