22 November 2021
New: Buffer belt for NP60 & BTB25
Updated: 22 November 2021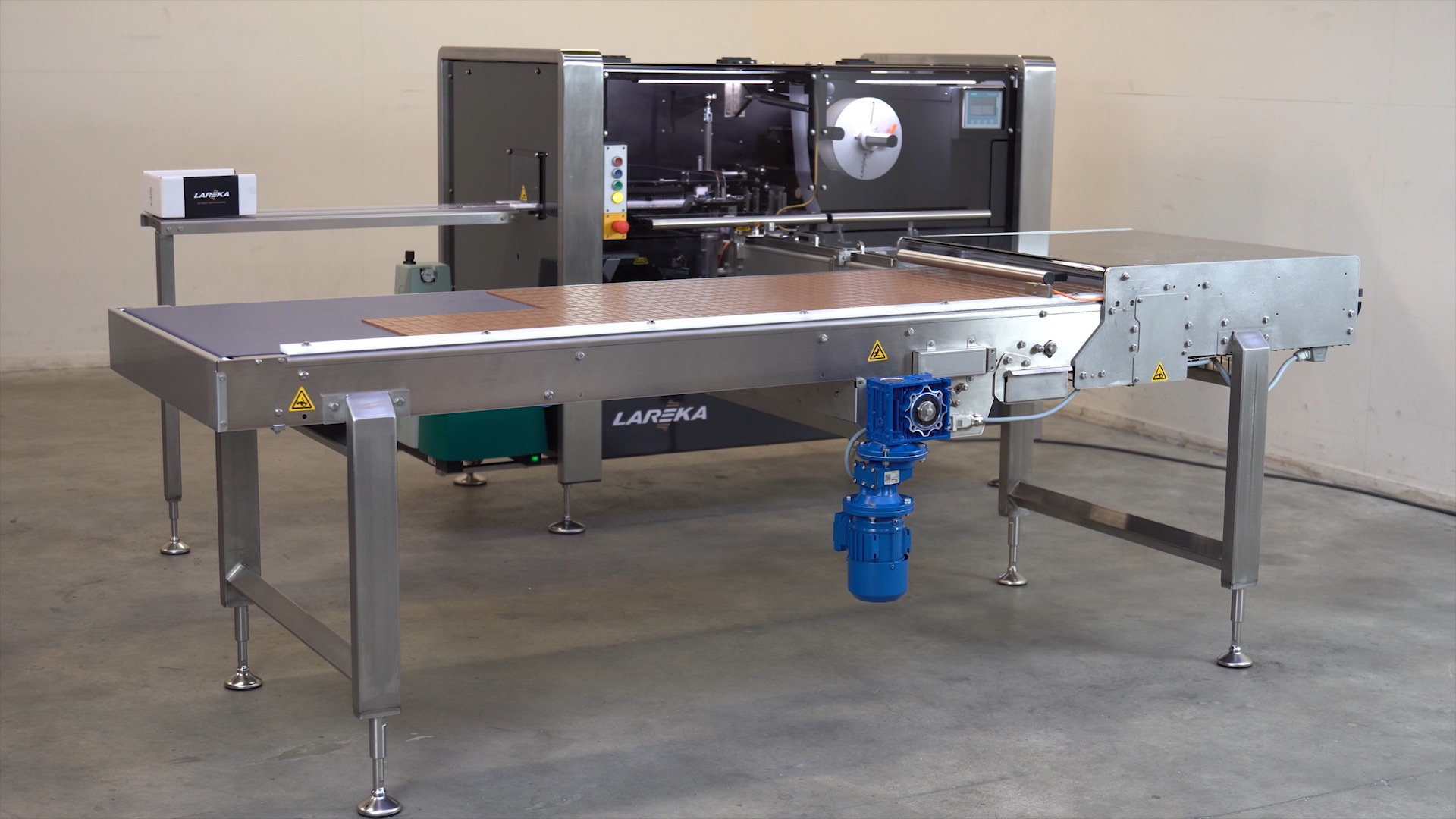 Lareka continues to develop
Development never stops here at Lareka; we are continually looking for new (sustainable) materials and wrapping styles to wrap premium bars and tablets in. We are also always trying to develop extra functionalities to make our machines more efficient, consistent, economic and user-friendly. Our latest innovation is a buffer belt that can be positioned ahead of the regular infeed conveyor to improve ease of use and facilitate a high and consistent production output.
Functionality
As demonstrated in the video above, the buffer belt facilitates the improvements described because of the bigger surface area available to the operator when preparing chocolate bars and tablets to be fed into the machine. The buffer belt measures 2 x 0.70 metres, which means that the machine will be able to run uninterrupted for 10 minutes if the buffer belt has been filled with a typical NP60 product (a 5g napolitain, for example). These 10 minutes will free up the operator to do other work, like processing the wrapped chocolate products. To summarise, the buffer belt paves the way to consistently achieve maximum output with just one operator - that's efficiency at its best!
Suitable for use on the NP60 & BTB25
Although the buffer belt is suitable for both machines, it creates the most added value for smaller products. This is because each product has to be fed into the NP60 and BTB25 by hand, which means that 60 products per minute must be fed in to utilise the full potential of the NP60. It is virtually impossible to do this non-stop for multiple hours per day. Although the BTB25 is a lower volume machine, the buffer belt still offers serious added value because it makes it easy to achieve maximum output with just one operator, which reduces labour intensity.
If you want to achieve higher and consistent output from the NP60 or BTB25 with just one operator, the buffer belt is the product for you!