13 May 2020
Moneymaker. Lareka introduces a unique total concept for personalised chocolate
Updated: 21 July 2021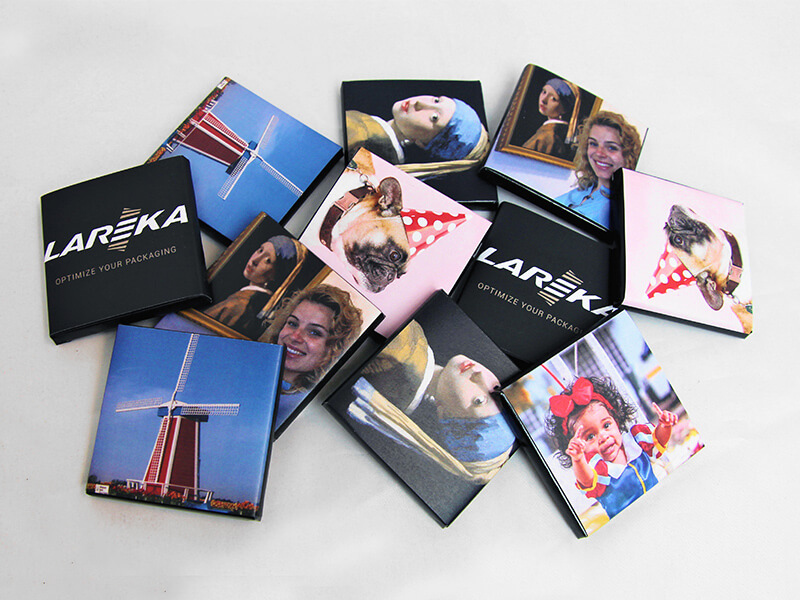 Personalised products are popular. Very popular in fact. And personalised chocolate is something the market simply can't resist. Consumers can't get enough of it. From now on it's getting even bigger. Lareka has reinvented personalised chocolate: one chocolate puzzle made up of 6 pieces or 6 identical chocolates showing a unique memory or a great picture for a party.
Ready in 3 minutes, batches of 6 tablets:
It's never been easier to personalise your chocolate. You can turn your image into an order in no time at all. If you want, the order is done in 3 minutes: one set of 6 tablets, ready while you wait. In this way, you create the perfect present, souvenir, giveaway or token of appreciation. They are all unique products with a personal touch. Something no one else has, only your customer. Until now, as a manufacturer you could only create personalised tablets offline. Or in a batches of 10,000 pieces. Now that minimum is has been dropped to just 6 tablets (1 puzzle).

Margin or mega-margin?
The personalised chocolate you can create from now on is simply irresistible and a product that's a sure sale. They're must-haves for today's young and trendy generation who will pay good money for a unique product. Ask five people what they'd be willing to pay for a puzzle like this and watch your profits soar. Discover how the pearl of Lareka can increase both margin and turnover, and pays for itself.