20 November 2023
From Salon du Chocolat to Chocoa: A recap of recent conventions and forecasts for exciting upcoming exhibitions
Updated: 20 November 2023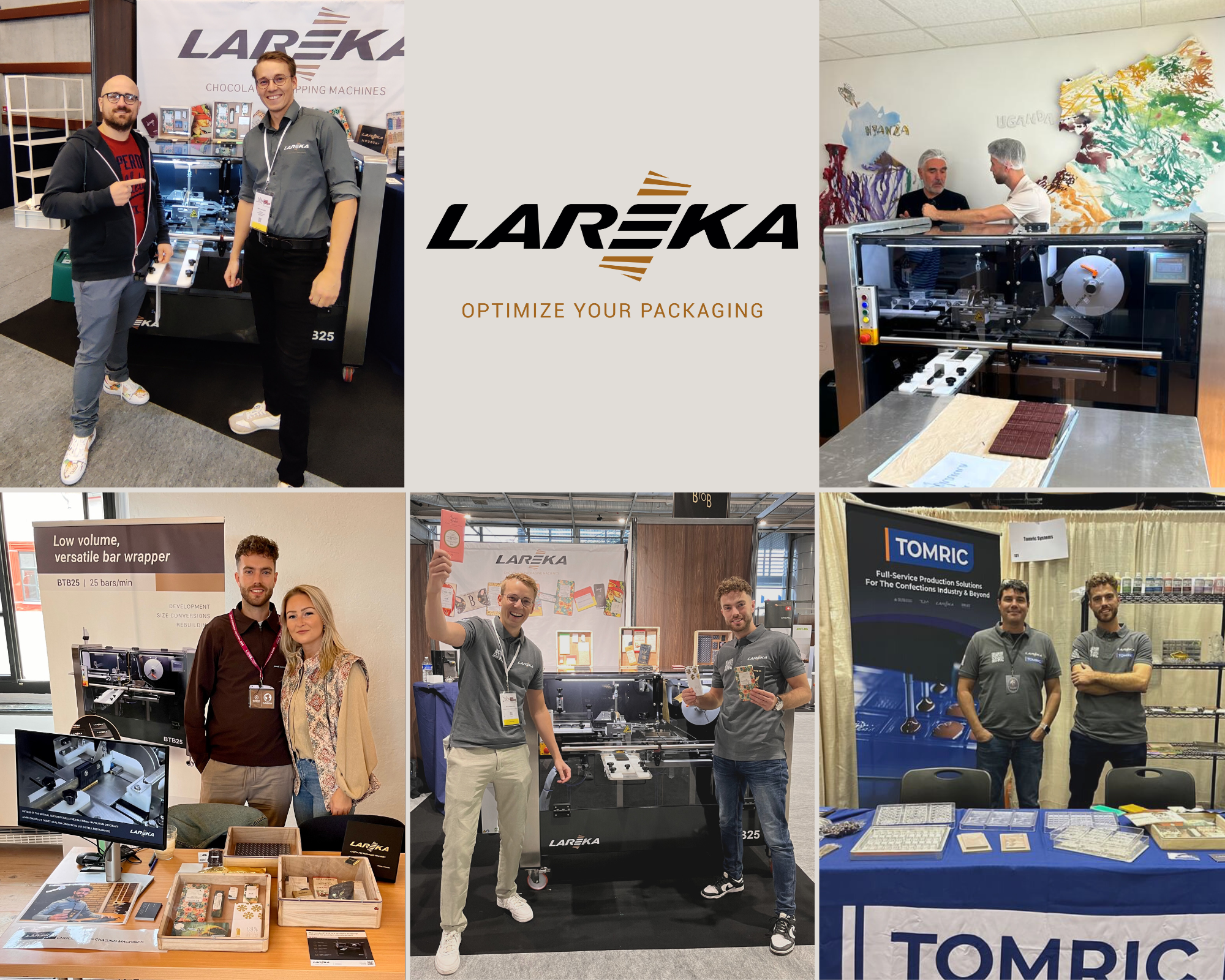 Upcoming events
Chocoa | 6-11 February, 2024
Amsterdam, Netherlands
Chocoa, a prominent event situated in the heart of Amsterdam, is gearing up to showcase the latest developments in chocolate and cocoa. As a Dutch manufacturer, Lareka proudly returns to attend in our capital city, bringing our expertise in chocolate packaging to the forefront. This edition of the convention is open to all chocolate enthusiasts, not just industry professionals.
ProSweets | Hall 10.1 Stand F029 | 28-31 January, 2024
Cologne, Germany
As always, we will again be exhibiting at Prosweets, a cornerstone event for professionals in the sweets and snacks industry. As a global leading supplier of wrapping machines for premium chocolate, we are set to engage with industry experts, share our expertise, and unveil our latest advancements. Come visit our stand to see the Lareka BTB25 live in action!
Looking back at recent events
Eurobean Chocolate Festival | 4 - 6 August
Lunzenau, Germany
The Eurobean festival celebrated a delicious blend of real cocoa aromas and the exquisite craftsmanship of bean-to-bar chocolate makers, making it a real success!  The enthusiasm and positivity from craft chocolate makers is very inspiring, creating a vibrant atmosphere for all exhibitors and visiting chocolate enthusiasts. The highlight of the weekend? Lareka was given the opportunity to present an insightful presentation on "How To Wrap Chocolate" to all exhibiting chocolate makers! With such memorable moments, anticipation is high for next year's edition – hope to see you all there!
Northwest Chocolate Festival | 7 - 8 October
Bellevue, Washington, USA
Together with our exclusive distributor Tomric Systems, we joined forces at the premier event celebrating the world of craft chocolate in North-America. Just like the Eurobean, this chocolate festival is focused on bean-to-bar chocolate and also provided us the opportunity to have another informative 'chocolate packaging'  presentation for all exhibiting chocolate makers.
Salon du Chocolat | 28 - 30 October
Paris, France
Just like the last couple editions, we proudly exhibited at the Salon du Chocolat 2023, the world's largest event dedicated to exclusive chocolate and cocoa, now in its 28th edition. Amidst the extravaganza of a spectacular fashion show, live demonstrations, engaging animations, and prestigious competitions—all devoted to the celebration of chocolate and cocoa—Lareka's live demonstration of the BTB25 attracted lots of attention. Noteworthy is the amount of BTB25-clients exhibiting at the Salon du Chocolat, something that makes us very proud!