26 April 2021
Bernachon: from manual to automated packaging
Updated: 21 July 2021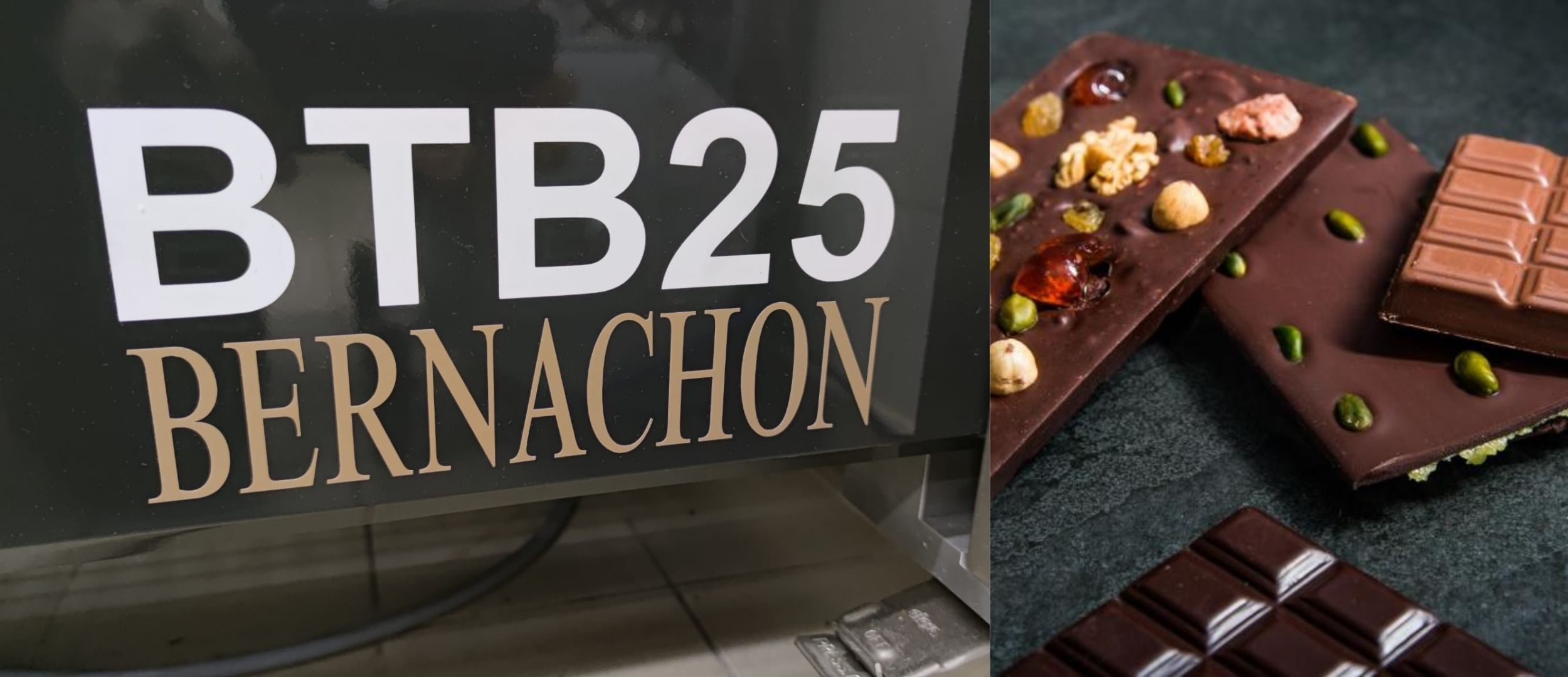 A special project for a special chocolatier
Chocolatier Bernachon is a family-owned business run by the grandchildren of legendary chef Paul Bocuse. So it should come as no surprise that this project turned out to be so complex. The main reason for this was Bernachon's diverse assortment: bars with toppings, inclusions, fillings, and even bars with a touch of gold leaf. Toppings and inclusions create height differences between the bars, while fillings make the bars prone to breakage. In addition, toppings require the bars to be packaged upside down. The challenge was for all these different bars (32 unique bars) to be packed by the same size set.
Optimizing the packaging
Despite the complexity of the project, everything went very smoothly from design to installation. With the help of the Bernachon team, we were able to optimize not just the packaging process, but also the packaging itself. For example, the wrapper design was adapted to accommodate the variety of bars and a fully sustainable packaging was chosen; the new packaging is a combination of transparent, compostable foil and thin cardboard.
Automate the packaging, eliminate the bottleneck
In addition to the complexity due to the high variety of Bernachon's bars, time was also of the essence. The machine had to be fully operational by mid-November in order to meet the enormous demand for Bernachon chocolate in December. One of the biggest bottlenecks in the artisanal production process is manually wrapping the bars. It simply takes too long, about a minute for each bar. With the BTB25, this process is sped up to almost one bar every two seconds. Solving the bottleneck in the production process enables chocolate makers to scale up production and increase margins.
A huge hit on TV
It's no coincidence that on the day of installing the BTB25 in Lyon, a film crew (M6, France) was there to shoot a documentary about artisanal production companies. The documentary starring the BTB25 was very well received and was watched by an incredible 2.6 million viewers! Figures that every programme creator in the Netherlands is jealous of. Watch part of the episode above to get a good idea of the products that Bernachon offers, the boutique and the installation of the machine.
Is packaging bars a bottleneck in your production process, too? If so, contact us and let us explain the many possibilities of the BTB25: