13 May 2020
A pearl of a total concept, made by Lareka
Updated: 21 July 2021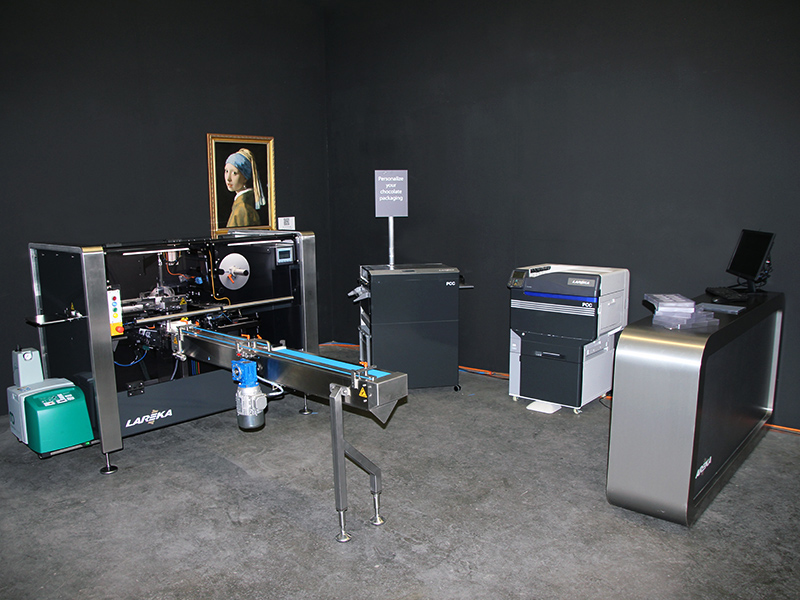 Our total concept for personalised chocolate sets a new standard in lead times, batches and merits. The concept is comprehensive: from the design of the labels through to the packaged product. On just 25 m2 you have a design agency, printing and packaging machine rolled into one. Batch size and lead times are virtually zero. Lean in its most beautiful form. How it can be done?
This is how it works
It starts with a web-based application that allows the consumer to upload an image and complete the order. A second web-based application translates the image into a design for the chocolate wraps. After payment, the labels are made on a professional printer and cutter. Packaging is done on a Lareka BTB25.

Lareka supplies the complete equipment of chocolate moulds, computers, printer, cutter and packaging machine. Using the software is on an annual license basis, which keeps the investment at an attractively manageable level.

Quality from an expert in packaging machines
This configuration was developed by Lareka, expert in chocolate packaging machines and trendsetter in inventive solutions. You can count on a well thought-out total solution. Innovation is in our DNA. Truth be told, we are Innovation. Buy the concept and take advantage of our creativity. We've still got plenty of great ideas for many years to come.