BTB25 chocolate packaging machine
Bars, Tablets, Napolitains | Automated Chocolate Wrapping
Lareka is the global leading supplier of chocolate packaging machines for premium chocolate bars and tablets. Our excellence goes way back. For over 40 years, Lareka has been representing smart packaging with care. The expertise and international experience our team has gained make Lareka able to do it all: develop, manufacture and overhaul of packaging machines according to European standards. Whether you are producing bean-to-bar chocolate in small batches or napolitains in huge numbers, Lareka can 'optimize your packaging'.
Wrapping cardboard around flowpacked chocolate bars
The Lareka BTB25 can now handle flowpacked chocolate bars. Until now, this bar wrapper could exclusively be used for single-stage foil/film and paper wrapping and double-stage cardboard packaging. This upgrade enables running flowpacked chocolate bars through the machine. The customer can choose to wrap a cardboard box or sleeve around the flowpacked tablet.
Wrapping bars with toppings
Packaging chocolate bars with rough inclusions. The Lareka BTB25 meets the demand of the artisan, bean to bar chocolatiers which want to add raw ingredients to their chocolate. With its big size range and versatility, our packing machine is able to wrap all sorts of chocolate tablets. The advantages of the BTB25 are:
• Perfect for crafted, artisan chocolate bars
• Big size range
• Versatile, easy and fast size conversion
NP60 napolitain wrapper
Buffer Belt for NP60 and BTB25 - Greater Convenience and Efficiency
As demonstrated in the video above, the buffer belt facilitates the improvements described because of the bigger surface area available to the operator when preparing chocolate bars and tablets to be fed into the machine. The buffer belt measures 2 x 0.70 metres, which means that the machine will be able to run uninterrupted for 10 minutes if the buffer belt has been filled with a typical NP60 product (a 5g napolitain, for example). These 10 minutes will free up the operator to do other work, like processing the wrapped chocolate products. To summarise, the buffer belt paves the way to consistently achieve maximum output with just one operator - that's efficiency at its best!
If you want to achieve higher and consistent output from the NP60 or BTB25 with just one operator, the buffer belt is the product for you!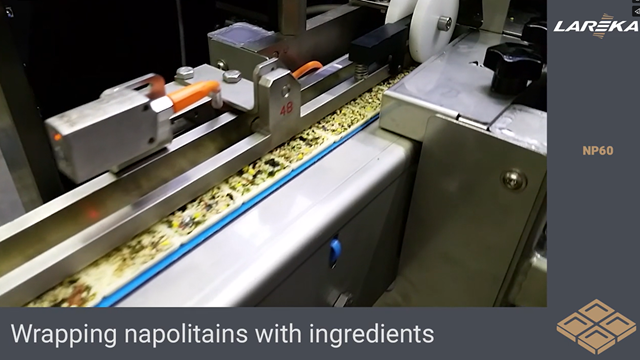 Wrapping small chocolates with inclusions
This versatile chocolate wrapper wraps different sizes of artisanal small chocolates in traditional wrapping styles.
• Perfect for (personalized) napolitains
• The speed could be increased to 60 tablets/min. because of the smaller size range compared to BTB25.
• Versatile, easy and fast size conversion.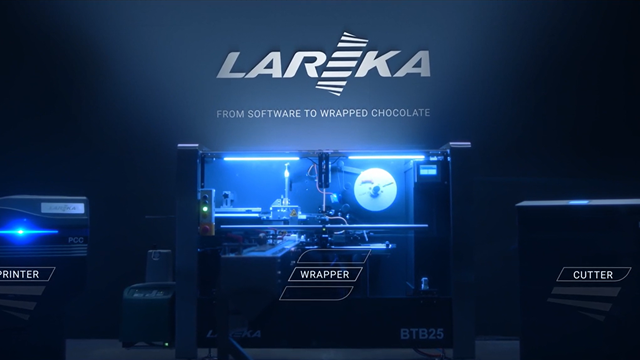 Personalized Chocolate Packaging | Customize your Chocolate Wrapping with the Lareka PCC
End-to-end solution for Custom Chocolate packaging. Lareka launched its 'personalized chocolate concept' (PCC) – an end-to-end solution that enables businesses to offer customizable chocolate puzzles, single chocolates and series of chocolate in small batches.